Penthouse Collection
Vancouver East, Champlain Heights
1 - 3.5 BED
Apartment/Condo
Address:

River District Vancouver Community | 3302 North Arm Avenue, Vancouver, BC

Bed:

1 - 3.5

Number of Floor:

25

Developer:

Wesgroup

Year Built:

Est. Compl. Fall/Winter 2022

Building Name:

Penthouse Collection

Amenities:

Kid's Play Area Dance/Yoga Studio Gym Theatre Meeting Rooms with Office Rooftop Deck Hot Tub Rooftop Pool Electric Vehicle Parking Dog Wash Station

Features:

Soaring overheight ceilings Wide plank hardwood flooring Roller shades throughout Heating & cooling system Side-by-side washer and dryer 2- 5-10 New Home Warranty
Penthouse Collection is a new condo development by Wesgroup currently under construction at 3302 North Arm Avenue, Vancouver. The development is scheduled for completion in 2022. Penthouse Collection unit sizes range from 704 to 1784 square feet. Elevate your lifestyle with a luxurious Penthouse Collection home in Vancouver's last waterfront neighbourhood. With soaring ceilings, stunning views, and premium appliances, these homes are perfectly positioned 25-storeys above the Town Centre. Discover this limited selection of premium penthouse homes in River District.
Related Buildings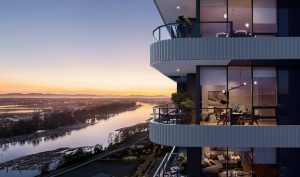 Vancouver East, Champlain Heights
Vancouver East, Champlain Heights
SEARCH BY AREAS
Easily find properties for sale all around Vancouver's hottest spots! You are just a few click away from finding the perfect home for you in one of the most beautiful cities in the world. Start your new home journey now!